Seniors secure conference championship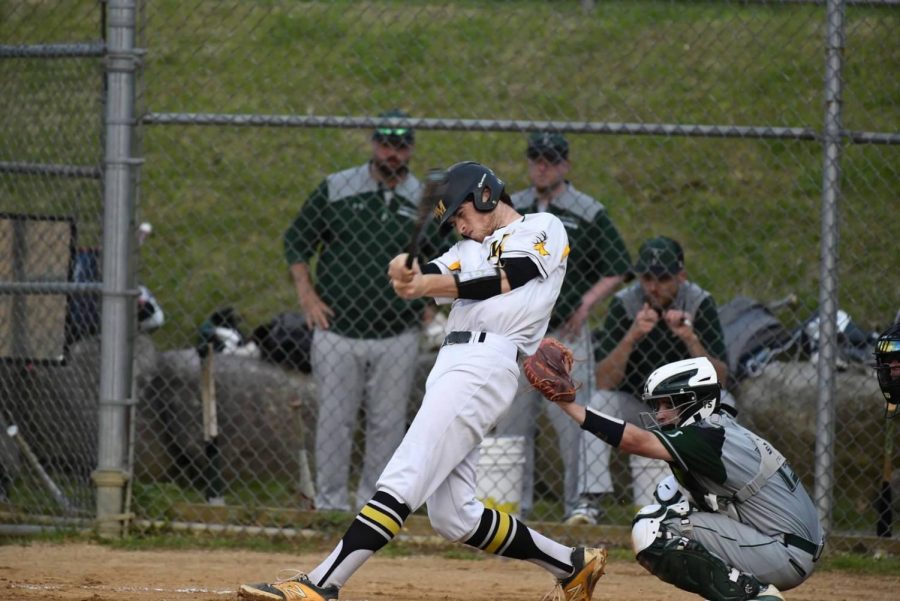 Mike Wis, Bucky's Backyard Editor
June 10, 2019
Highlander baseball had a bounce back season in 2019 from a disappointing campaign a year ago. West Milford finished with a 14-7 record, and won the Big North Independence League for the first time since 2012. This great season led to head coach Joe Jordan being named Coach of the Year for the All Big North Conference.
Offensively, the team has had a multitude of players carry the load. Senior Captain Joey Hubinger has picked up right where he left off last season, leading the team with 27 hits and 19 runs, as well as playing a major role defensively at shortstop. He was a consistent producer in the three hole for this lineup. Protecting him hitting cleanup, Senior Captain Brandon Licursi led the team with 12 XBH (extra-base-hits) including a grand slam against Kennedy, 19 RBI(runs batted in) and OPS(on-base+slugging) with it at 1.093.
Both Hubinger and Licursi made second team all county and first team all conference.
Bats surround those two middle of the order sluggers include leadoff hitter Chris Gomez who hit .324 with 13 runs and RBI, center fielder Jack Vreeland who hit .333 with 16 runs, and catcher Aidan McDaniel who finished second on the team in RBI with 17, and tied for first in walks with 15.
McDaniel and Gomez both received honorable mention for all county and all conference.
Four year varsity letterman Zack Milko aided the team's success with a return halfway through the season. As the Highlander's DH(designated hitter), Milko was able to tally 20 hits, 10 runs and RBI in only 12 games.
Rounding out the rest of the lineup includes first baseman Chris Valenzano and left fielder Andrew Corter. Valenzano hit exactly .300 with 12 RBI and 11 runs, and Corter hit .290 with 10 RBI and 8 runs. These two hitting 7 and 8 in the lineup expressed the huge depth this lineup possessed.
West Milford's pitching was lead by a three man staff: Mike Wis, Billy Egan, and Chris Aiello.
Wis pitching in his fourth varsity season was able to put it all together and have his career year. Named to first team all county and conference, Wis pitched to a 1.465 ERA(earned runs average) through 43 innings of work, with a team leading 49 strikeouts.
Junior Billy Egan worked in 37 innings, with a 1.892 ERA and 28 strikeouts. Sophomore southpaw Chris Aiello worked through 32 ⅔ innings to a 2.143 ERA with 38 strikeouts. Both of these players received second team all conference.
Egan and Aiello provide a bright future for the 2020 Highlanders with a team seeking new leadership after the heavy 2019 senior class graduates.The team will most defintley have a different feel when it comes to chemsistry with a new and young group comingin. But the talent of these younger players are immense and could find just as much success as this 2019 group.
From those graduates, three are hopeful to play in college. Hubinger is attending McDaniel University, McDaniel is attending Hood University, and Jack Vreeland is attending UMASS Dartmouth. These three will continue the lay for a group of layers that have been together since they were eight years old. Good luck!