WMPQ ice hockey seeking success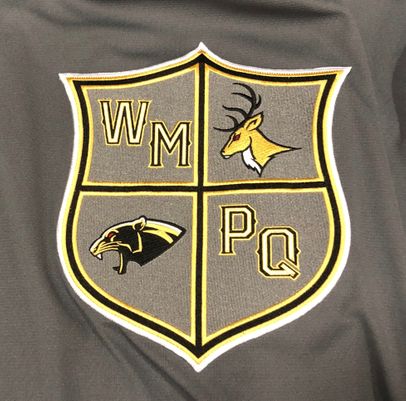 Jared Miller, Sports Editor
November 21, 2018
The West Milford High School ice hockey team struggled last season. Plagued with injuries and facing excellent competition in the Big North Conference, the team had nothing going for them. It was a season that was rough for every single player on the team. A change was needed in order for a bounce back season, which is exactly what happened.
Shortly after the 2017-18 school year ended, school administration announced that the ice hockey team from West Milford would be merging with the Pequannock hockey team. With new colors, logos, and jerseys, the 2018-19 season is set to begin in mid-November. The merge benefits both programs due to the struggles both teams have faced in the past, and the improvements both teams want to make looking forward.
The uniforms and logo will be different for the unified team. The logo is an emblem shaped as a shield and divided into four sections. The top left has the letters "WM" along with the top right having a deer in it representing West Milford. The bottom right has the letters "PQ" in it along with a panther in the bottom left representing Pequannock. The shield will be featured on a grey jersey with red and gold accents.
Due to the combination of the teams, the coaching staff was rearranged. New head coach, Chris Enrico, coached the Pequannock ice hockey team for fourteen years and will continue coaching the newly formed West Milford-Pequannock (WMPQ) team. The coaching staff will also include West Milford's assistant coach, Nate Nussbaum, who is going to remain with the team for a second season along with Pete Lanigan who is returning from the Pequannock coaching staff.
The team will be staying in the Big North division, and although they will be facing tough competition, both teams are bringing back players from last season who will be integral in the team's season. West Milford is returning four out of five of their leading scorers, as well as their starting goalie. Pequannock brings back three out of four leading scorers, along with a defensive core that West Milford lacked last season due to injuries and a loss of seniors from the previous season.
After last season, the combined record for the teams was a total of 7 wins- 39 losses- 1 tie. The WMPQ team looks to improve the stats this year, and with the season right around the corner, it hopes to get off to a quick start and surprise the other teams in the league.
The season begins on November 6, when the WMPQ program will have its first practice. The team, as of now, is scheduled for seven practices before its first game against Ramapo on Saturday, November 24, at 8:15 pm. The game will be held at the Ice Vault in Wayne, where the team will look to make history and get the first win for the WMPQ program.