Remember and Be the Light
WMHS students protest baseless hatred
Hang on for a minute...we're trying to find some more stories you might like.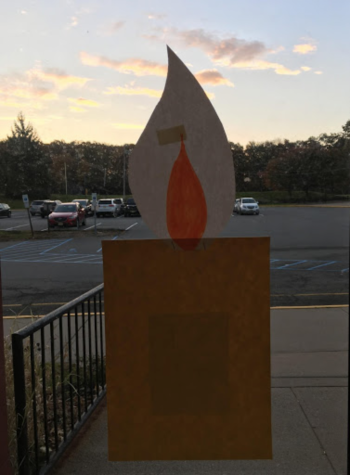 "We had to do something," stated Senior Megan McCormick emphatically after the spree of hate-filled violence that happened in the US last week. One CNNnews headline read, "72 hours in America: Three hate-filled crimes. Three hate-filled suspects" after the killing of two African Americans in a Louisville suburb. This was sandwiched between 14 letter bombs sent to prominent Democrats and the killing of 11 worshippers at the Tree of Life Synagogue in Pittsburgh on Saturday, October 27.
Students in the Holocaust and Genocide Studies course at West Milford HS decided to act. Inspired by a classroom flyer, they joined in an initiative that marks the 80th Anniversary of Kristallnacht. Kristallnacht, or The Night of Broken Glass, was a night of terror when Jewish businesses and homes were looted, synagogues were burned down, and nearly 30,000 were deported to concentration camps. Across the country, on November 9, people will "Remember and Be the Light." On that evening, people will light a candle in their windows to protest baseless hatred.
Explaining the project, Senior Joey Cummings said, "As Highlanders, we placed candles in all the windows to stand as a vigil for those harmed." Knowing that real candles would be disallowed by fire codes, an assembly line of scissors, staplers and tape was manned by Adileni Alvarado and Halley Brannigan, Julie Janecek and Maddie Struck, and many others. Senior Jack Kidd added, "The candles also serve as a reminder that this democratic nation is founded upon the principles of freedom, liberty, and justice for all."
Quoting from the "Be the Light" flyer, Sophomore Skylar Greenberg captured the essential message, "Let us learn from history and stand against hatred and violence."
This political cartoon, released on Halloween, reflects the efforts of the WMHS students. With such an enormous and frightening problem, especially after the Pittsburgh shooting, we want people to know that "we will not be bystanders" to hate or violence, reflected Senior Jenna Moran.