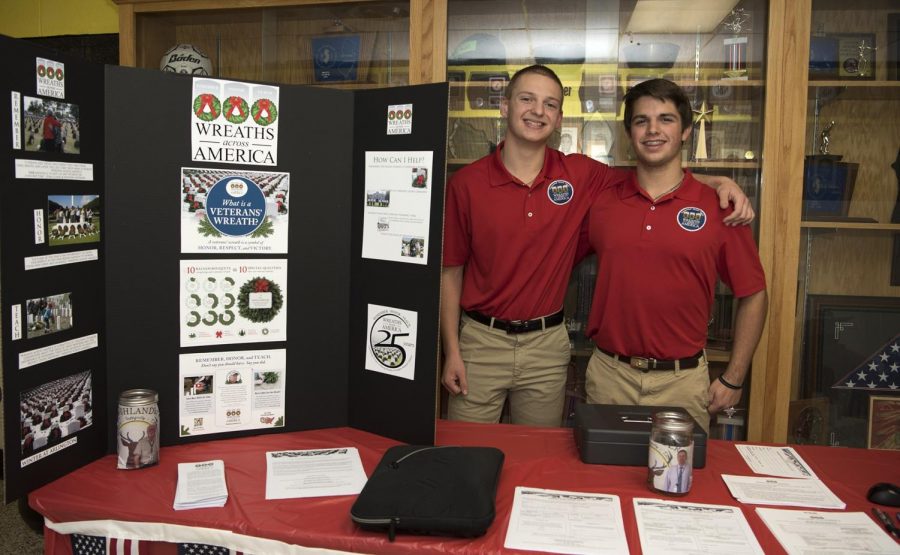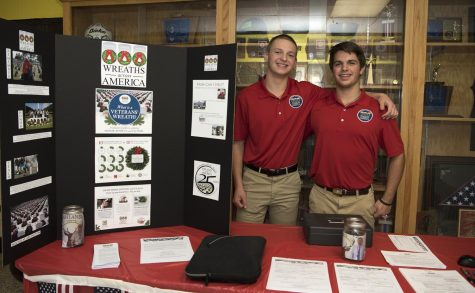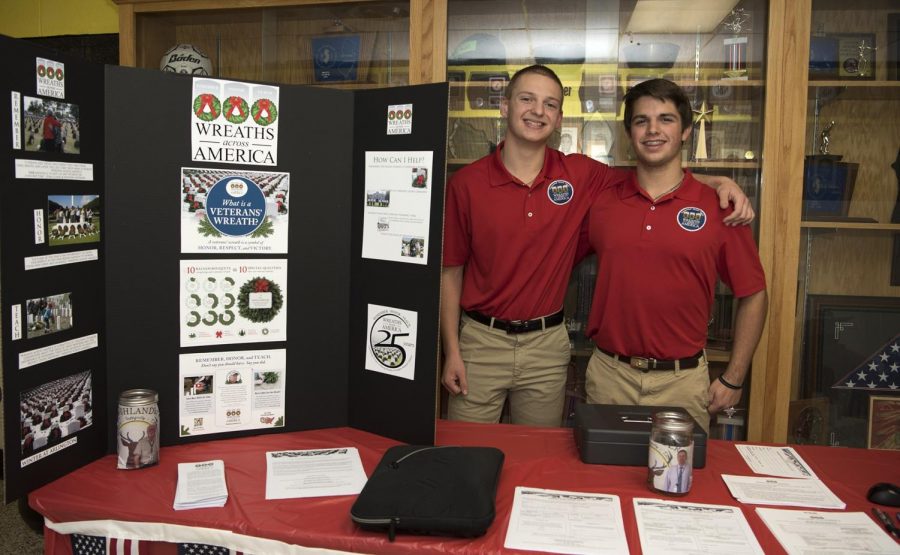 Perhaps you have heard about two of West Milford's most committed community members, Evan LeMay and Matt Hoffman. I'm sure you've seen their collection jars in your classrooms or at the local Sit n' Chat diner or heard their messages on the morning announcements. Recently, LeMay and Hoffman have endeavored to support our local veterans, which is something they believe t
It all began last year, when Evan's mother told him. about Wreaths Across America. They hadn't had enough time to organize their own effort, but they donated a wreath to Arlington National. Cemetery with the intention of doing more this year. Having heard of Wreaths Across America from lifelong friend Evan, Matt decided to take part in this rewarding volunteer experience.
These young men began their volunteering venture in early November, and have been promoting it for over a month. Their mothers, in support of their project, created a Facebook p
age titled "Military Moms of West Milford". Using the Facebook page as well as word-of-mouth, LeMay and Hoffman promoted Wreaths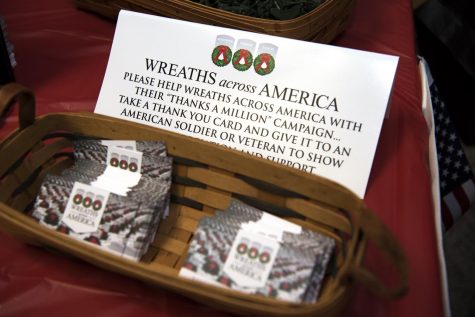 Across America in our school and community.
They began distributing their collection jars after they discussed their project at a faculty meeting during the second week of November.
They've decided to lay wreaths at Clove Cemetery in Sparta, as it is the most convenient, considering the tight time constraints that the boys have had in the last month. Clove Cemetery had very few sponsors, so LeMay and Hoffman have devoted their attentions to this location.
While they have organized this project by themselves, the Sparta VFW is also laying wreaths. Any leftover wreaths from Clove Cemetery will go to local cemeteries in West Milford, with the remainder being sent to Arlington National Cemetery.
This is not the only volunteering that these young men do; Evan regularly participates in the annual Saint Baldrick's fundraiser and assisted veterans as a battle buddy in Phillipsburg. Matt is also a constant participant in West Milford's Beautification Day.  Regardless of their normal altruistic qualities, they were most motivated by their brothers, Donovan LeMay and Ryan Hoffman, who both enlisted in the army straight out of high school. Evan and Matt are planning to follow in their footsteps, as they plan to enlist in the Marines and Army, respectively. Matt is "just in it for the veterans," and he completely supports them and their valiant service to our country. He also says that it is important to recognize and appreciate them for their efforts in such troubling political times when support is so divided. Evan continued by saying "it's cool that people offer congratulations for doing this, but I don't really want the recognition from it. I want other people to put their efforts toward supporting our veterans as well, whether they agree with what our troops are fighting for or not."
Recently, a group of thirty teachers attended a movie night at Kinnelon Cinemas in a fundraising event to support Hoffman and LeMay in their noble efforts. Mrs. Petrosillo, who organized the event stated, "We are all so very proud of Matt and Evan. Their presentation at the faculty meeting was excellent and the fact that they are doing this in honor of their brothers is both moving and inspiring. Many of the staff members have military or veteran connections, and we wanted to do something to help support this cause. We were able to donate over $150 to the organization and were proud and happy to do so."
Principal Paul Gorski admires the students' drive and how they handled the fundraiser, "I was so impressed with Matt and Evan. Students come to me with ideas often, but these Highlanders had a plan, and a purpose to match their passion. As a staff we were so proud to support this wonderful cause."
LeMay and Hoffman hoped to attain enough donations and purchases to total 372 wreaths, each wreath selling for fifteen dollars. Donations were made online at www.wreathsacrossamerica.org or through a paper form acquired through LeMay or Hoffman. Evan believes that these wreaths will ensure that "no veteran is forgotten…[and]their legacy [will] live on for as long as it can."