"La La Land" lifts spirits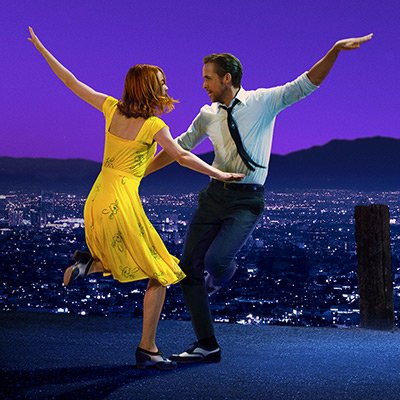 Hang on for a minute...we're trying to find some more stories you might like.
Compared to the archetypal summer blockbuster, the next best season to go to the movie theater is in the winter.  You'll find surprising hits during the cold season that are unexpected. Last year, "Deadpool" brought mobs of fans to theaters and became the highest-grossing rated-R film in history. In 1988 "Die Hard" took audiences by storm. So this year, it doesn't come as a shock that a new film has audiences in love. "La La Land", a musical starring Ryan Gosling and Emma Stone as Sebastian and Mia, was a thoroughly enjoyable film. Sebastian is a struggling pianist who wishes to revive jazz, and Mia is an aspiring actress who never seems to catch a break. When the two cross paths, sparks fly. The film itself chronicles their love story, as well as the sacrifices one must make in order to follow his/her dreams.
       Gosling and Stone perform excellently in the musical. Both voice talents perform on-camera, which adds immeasurable value to the film. Some say that their lack of formal voice training was a poor casting choice, but a viewer must see beyond the actors' musical talent. "La La Land" demonstrates the importance of persevering and pursuing dreams regardless of what people think of you or say about you. On that note, the numerous duets and solos performed by the actors were lovely. There were also multiple ensemble pieces that were lively and fun. Additionally, I found the film's score to be wonderful. It was whimsical and happy at times, and also serious enough to shed light on the characters' hardships.
           While watching the film, audiences were struck by the emotions of the characters and felt for them, which made the film more meaningful. I find that the montages in the middle of "La La Land" were emotional and significant to the development of the characters' relationship.  The film, on the whole was quite interesting. Though minimal backstory was provided for the characters, it seems that this is an insignificant aspect. The characters did not  need exposition, as audiences were supposed to experience romance in the moment. "La La Land" acutely intrigued moviegoers.
Needless to say, this writer isn't the only source of praise for the breakout film; it has received multiple Golden Globes and a Screen Actors' Guild Award for Performance by a Female Actor in a Leading Role. "La La Land" is a truly meaningful movie. It goes without saying that many loved the movie. It was a total success! Go see "La La Land" while it's still in theaters!