Celebrating Christmas around the world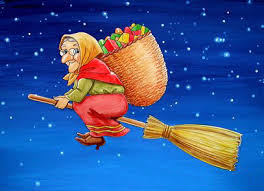 Hang on for a minute...we're trying to find some more stories you might like.
Over 160 countries celebrate Christmas. Of those 160 countries, many vary in traditions and celebrations. The United States is known for the tale of Santa arriving overnight, traveling by a sleigh flown by reindeer, and sliding down families' chimneys in order to set the children's gifts around the Christmas tree. Many people are not informed, however, that other countries do not necessarily follow these same traditions.
For instance, unlike the familiar flying reindeer and big red sleigh, The Netherlands follows a different tale. In the Netherlands, Sinterklaas (Santa Claus) and the helpers come ashore from the steam boat while all of the local church bells ring in celebration (whychristmas.com). Sinterklaas is known for dressing in a red robe while riding on white horse, leading a procession through the town. Every town in The Netherlands has a few Sinterklaas helpers — similar to the United State's representation of elves — dressed in the same red robe as Sinterklaas, while helping distribute the presents (whychristmas.com). Furthermore, children receive their gifts on December 5, unlike the traditional date of December 25 (whychristmas.com).
Similarly, in Egypt, Christmas Day is not celebrated on December 25 either. Instead, it is celebrated on January 7. For the 43 days before Christmas, Coptic Orthodox Christians take part in "The Holy Nativity Fast" where they only eat a vegan diet (whychristmas.com).
In Canada, people share the same tales of Santa Claus and the eight reindeer as we do in the United States. Although, there are two other popular Canadian traditions that are not celebrated in the US. One is to send the biggest fir tree grown in Nova Scotia to Boston in order to honor support from the US after the Halifax Explosion — a manmade disaster that occurred from a ship colliding with another vessel (history.com). Since this explosion happened on December 6, Canadians send the biggest fir tree in order to honor those who have lost their lives. Similarly, The Eastern Canadian province of Nova Scotia is known worldwide for its fir and pine Christmas trees (whychristmas.com). Accordingly, most families in Canada own a Christmas tree, just as the United States. Another well-known tradition in Canada is an activity known as "mummering". Particularly in small towns, children dress up in costumes and knock on neighbors doors asking whether or not "mummers" are allowed in (where they can then eat treats)– reflecting similar activities experienced in the United States on Halloween (whychristmas.com).
In both Italy and France, people celebrate Christmas with what is known as the "Nativity Crib Scene". They use a crib to represent the scene of the birth of Jesus. Notably, a great many French and Italian families own a Nativity crib which they display proudly in their homes (whychristmas.com).
Also in Italy is a traditional meal which many Italian-American families have adopted on Christmas Eve. Most of the meal, known as "The Feast of the Seven Fishes", consists of fish dishes– a tradition which is growing in popularity. Arguably it is more popular in America than it is in Italy! Epiphany is another well-known tradition celebrated in Italy. On Epiphany night it is believed that an old witch type lady called La Befana brings presents to the children and fills their stockings. In some cases, the Three Kings might bring children presents rather than La Befana, depending on one's location (whychristmas.com).
Specifically in France, logs and candles are left burning throughout the night with food and drinks in preparation for Mary and Jesus's arrival.
In Greece, the traditional decoration seen in many households is a wooden bowl with a piece of wire stretched across the rim. A sprig of basil is folded around a cross which hangs from the wire, with water in the bowl in order to keep the basil fresh. Once a day, a family member submerges the basil and cross into holy water, which is then used to sprinkle throughout the house into each room (whychristmas.com). This tradition is believed to ward off bad spirits.
Germany has several traditions that are carried over into American households. The first of these is the traditional Advent Calendar, which consists of a wreath of fir branches with 24 little boxes tied to them, inside which are little presents. Similar to this, Americans have little chocolate calendars. Another is the Advent wreath, which has three purple candles and one pink one, each of which is lit during the four weeks preceding Christmas. Similar wreaths are found throughout Christian churches. On the evening before December 6, Children eagerly await the coming of der Nikolaus, who fills their shoes with little gifts and goodies. In Germany the Christmas tree is of utmost importance, often being secretly smuggled into the house on Christmas Eve and decorated by the mother of the family (whychristmas.com).
Overall, many countries possess unique traditions unheard of in the United States. Different cultures acquire different tales and customs that are seen as intriguing from the standpoint of an American. Regardless of one's traditions, this is a magical time of year.